How Gro DAO decides what's best for Gro Protocol
Moving to a decentralised governance model is an important step on our roadmap. GRO holders can contribute and vote on a number of protocol decisions, in particular:
All users or partner DAOs are welcome to share draft proposals on our
Community Forum
below. New proposals will then be shared in our discord server's
governance
channel.
After being shared on the community forum, proposals may then turn into official proposals on Snapshot where Gro DAO members can vote and decide whether they should be implemented.
You can also view our governance vote records on Messari:
Users can now use GRO for voting. Your number of votes not only include GRO tokens in your wallet, but also those that are staked in our
pools
or vesting in our
rewards center
.
How do I know how many votes I have?
You can check how many votes you have in this
contract
under "8. balanceOf".
Note that the votes you have in each vote depends on your GRO balance at the specific block in each snapshot vote. You can find the block used for snapshot in the upper right of the vote page – see the below screenshot as an example.
​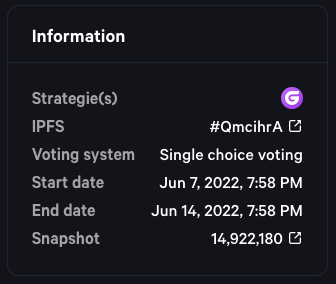 ​
The snapshot block used here is
14922180
- that is usually the same block when the vote was published.
We are working to formalise a community proposal & voting process to streamline the process and further decentralise governance. Stay tuned!